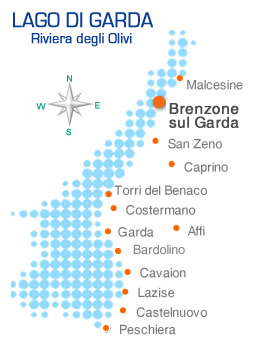 Welcome to Brenzone sul Garda!
Brenzone sul Garda is a characteristic tourist centre formed of a number of hamlets scattered along a stretch of the Olive Riviera of Lake Garda.
The town still conserves its original historic size and features, rich in history and traditions which are still celebrated every year in the numerous religious and folklore festivals that are organised. Besides tourism, local economy is also based on olive cultivation and the production of their quality oil.
Brenzone sul Garda is a favourite with lovers of both sports and relaxation, and with its choppy water the lake is perfect for windsurf, kitesurf and sailing. Walkers and mountain bikers love the variety of roads, dirt roads, paths and mule tracks that wind up towards Mount Baldo or disappear among the olive groves in the countryside.
Brenzone sul Garda is very close to the cable car station to Mount Baldo, meaning visitors are able to fully appreciate the nature and amazing lake view from an altitude of more than 1700 meters.
The ferry service from Brenzone sul Garda port runs to other famous locations on Lake Garda, while the nearby Affi and Rovereto motorway junctions make Brenzone sul Garda and other tourist locations easy to reach. The Verona international airport is just 50 km away.